Natural Beauty and Culture in Hsinchu County
As home to Hsinchu Science Park many businesspeople visiting Taiwan may find themselves in Hsinchu county. Taipei to Hsinchu is day trip as in around an hour you may find yourself immersed in Hakka or Aboriginal culture in charming small towns or soaking in a hot spring in the stunning mountains. There are plenty of opportunities to undertake day hikes as well and if you really want to see another side of Taiwan you could even travel up to Taiwan's most remote village.
Smangus: Indigenous Culture and ancient trees
The most remote in Taiwan, the Atayal village Smangus was the last place in Taiwan to get electricity. It's a long drive up through stunning mountain scenery with plenty of places to hop out and take photos of the dramatic mountain and valley scenery. The village is run co-operatively by the local tribe with evenly split decision and profits. The surrounding area is home to magnificent old giant cypress trees and many visitors choose to take a short hike to visit some of the more accessible ones. There's local cuisine on offer too. Don't forget to try the coffee which is flavoured with magau – a locally picked wild mountain peppercorn.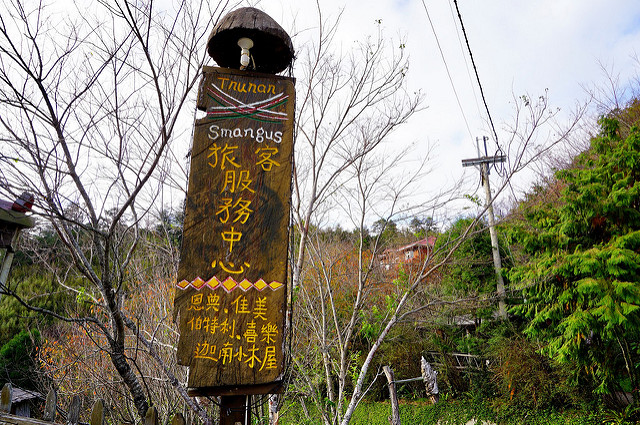 ▲圖片來源:禮名畫的生活旅遊日記 FB
19 Hectares Grasslands: Rolling slopes and outdoor slides
Those travelling with kids or who simply want a no-fuss day outdoors might want to check out this large park which boasts northern Taiwan's longest outdoor slide. The sloping parkland is navigated by steps and winding paths and it's easy to take pleasant walks in the park, have a picnic on the large grassy areas or fly a kite. In the summer months hot air balloon rides are also run over the park.


▲圖片來源:新竹市 新鮮事
Green World: Family fun with animals
Situated just a twenty-minute drive outside of the market town of Zhudong Green World is a private family eco-park. There are plenty of well-looked after animals including alpacas, rabbits, hens, goats and so on. There are also areas put aside for local reptiles and snakes and some gorgeous birds flock in the area while pelicans and flamingos live by the on-site lake. This is a perfect half-day for families with kids as it is pushchair friendly and easy to navigate.
 
Nanliao: Coastal cycling and fresh off the boat sashimi
Ride along the coastal bike path starting and returning to this small port village. It is simple to hire a bicycle, or a one or two bench surrey cycle (a pedal car with overhead awning and bench seats that allow for small children to enjoy the ride while the adults peddle) and ride along 17 km seaside path. This is a fun half day activity for all ages with plenty of opportunities to stop and rest, take a few photos or nip down onto the beach. Once you've worked up an appetite on the bike you can pop into the fish market at the port to grab some freshly caught sashimi for lunch or dinner, or stroll through the village and grab a bite at one of the local restaurants.


Neiwan Old Street 
This charming old street boasts all the usual shops and eateries found in this type of tourist area. There's lots of hakka food on offer, plus shops selling Taiwan nostalgia. As you meander through you can try-before-you-buy on many of the snacks and the Mochi here is particularly good – as well as the usual peanut, sesame and red bean the stands here have chocolate and mango fillings too. Keep an eye out for the wasabi peanuts too. The surrounding area is home to the Attayal tribe so take the chance to sample some Indigenous foods amongst the regular Taiwan favourites.


▲圖片來源:內灣愛情故事館 -景觀餐廳 DH婚紗拍攝基地
Hotsprings at Jianshi 
Jianshi is situated in the mountains of Hsinchu County and is an Atayal tribal area blessed with fantastic hotsprings. The waters here are carbonate salt springs so there is no sulphur odour. There are many resorts to choose from, ranging from family friendly spa pools to split gender pools (these are nude pools). In most places you can book a private hot spring bath too. In the pools you will have to cover your head so bring along a cap or pick one up onsite. To get more adventurous, there are also wild hotspring spots along the river with Xiuluan Hot Spring being readily accessible from the road and Taigang Hot Spring a 30 minute hike away.
Hsinchu county is very pretty with lots on offer, but don't miss the city itself. In recent years the government has poured money into the city centre and it is now possible to wander through paths alongside the restored old city walls and gates, and grab a bite in some of the local or international eateries that line the parallel street. Do be aware that getting to most of the places described in this article can be rather tricky and time-consuming by public transport - especially for the ones in the mountainous areas - so travelling by car is far more practical. The journey from Taipei to Hsinchu takes around an hour by freeway and once you are within the county the journey time will vary depending on your destination but there's plenty of eye candy along the way in the form of mountains, valleys and rivers.
▲圖片來源: Austin Neill on Unsplash